Kailash Satyarthi founded Bachpan Bachao Andolan (BBA) in 1980. BBA symbolizes India's largest grassroots movement for the protection of children, ensuring their quality education. As on October 2014, BBA has rescued more than 83 500 victims of trafficking, slavery and child labour and has helped them re-establish trust in society and find promising futures for themselves.
BBA's vision is to create a child friendly society, where all children are free from exploitation and receive free and quality education.
Their mission is to identify, liberate, rehabilitate and educate children in servitude through direct intervention, child and community participation, coalition building, consumer action, promoting ethical trade practices and mass mobilization.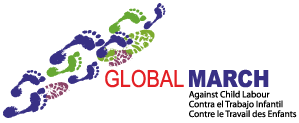 GLOBAL MARCH AGAINST CHILD LABOUR
KAILASH SATYARTHI CHILDREN'S FOUNDATION
The Global March Against Child Labour is a worldwide network of trade unions, teachers' and civil society organisations that work together towards the shared development goals of eliminating and preventing all forms of child labor and ensuring access by all children to free, meaningful and good quality public education.
​
Their mission is to mobilize worldwide efforts to protect and promote the rights of all children, especially the right to receive a free and meaningful education and the right to be free from economic exploitation and from performing any work that is likely to be harmful to the child's physical, mental, spiritual, moral or social development.
The Kailash Satyarthi Children's Foundation (KSCF) envisions a world where all children are free, safe, healthy, in school, and have the opportunity to realize their potential. Our mission is to end slavery and child labor and ultimately end violence against children.
​
The Kailash Satyarthi Children's Foundation US is dedicated to eradicating child labor and child exploitation by educating and mobilizing the public, engaging the private sector to prioritize children in their business models, building capacity of partners on the ground and advocating for the protection of children in national and international policies.
Svaha clothing has provided over 100 shirts, dresses and scarves to rescued women and children and continues to donate clothing to the Touch of Life Foundation.